Welcome to the Friday Fit Meal of the week.  Today I have a special treat for you.  A savory Sweet Strawberry Salad.
Sweet Strawberry Salad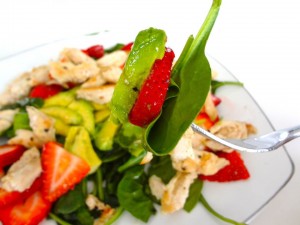 MAKES 4 SERVINGS
 Ingredients:
·      1 lb. Skinless, Boneless, Chicken Breast
·      4 Cups Baby Spinach
·      2 Cups Strawberries, sliced
·      2 Avocado, pitted and sliced
Vinaigrette:
·      ¼ Cup Extra-Virgin Olive Oil
·      2 Tbsp.  Apple Cider Vinegar
·      ½ Cup Organic Honey
·      2 Tbsp. Pure Maple Syrup
·      2 tsp. Lemon Juice
 Directions:
1.     Preheat oven to 350 F (180 C).
2.     Place chicken on parchment paper baking sheet and cook for 20 minutes. Let cool and slice.
3.     While chicken is cooking, place olive oil, apple cider vinegar, honey, maple syrup and lemon juice in a small bowl and. whisk together.
4.     In a large bowl, toss together spinach, strawberries, avocado and chicken.
5.     Divide salad among serving bowls and drizzle with vinaigrette. Enjoy!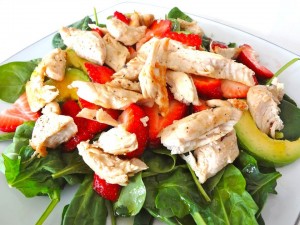 This sweet, savory salad makes for a perfect lunch on a hot summer day.  Let me know how you like this recipe in the comments below 🙂