Welcome to the Fit Friday Meal of the week.  This quick and easy recipe is simply delicious!
COCONUT-CURRY CHICKEN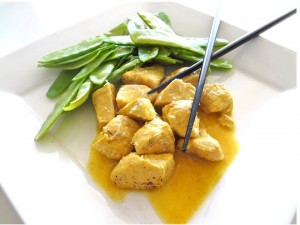 MAKES 4 SERVINGS
 Ingredients:
·      4 Chicken Breast, cubed
·      3 Cups Coconut Milk
·      ½ Cup Low Sodium Chicken Broth
·      2 Bananas
·      1 Tbsp. Curry
·      2 Tbsp. Lemon Juice
·      1 Garlic Clove, crushed
·      1 Tbsp. Coconut Oil
·      ¼ Cup Unsweetened Coconut, grated
 Directions:
 1.     In a food processor, add the coconut milk, broth and lemon juice. Add bananas, curry powder and garlic. Salt and pepper, if desired. Mix well.
2.     In a large saucepan, heat oil over medium heat. Brown the chicken cubes for about 2 to 3 minutes.
3.     Pour in the coconut-curry sauce and let simmer, uncovered, 15 to 20 minutes, until the chicken is cooked. Just before serving, sprinkle with grated coconut.
4.     Enjoy!
And as always, if you liked it let me know 🙂