Happy (early) Valentine's Day! I have something not only your loved one will enjoy but also your taste buds will love. You can serve this salad for lunch or as an appetizer for dinner.
Hope this will warm your heart!
Karine 
STRAWBERRY SALAD WITH CHOCOLATE VINAIGRETTE
MAKES 4 SERVINGS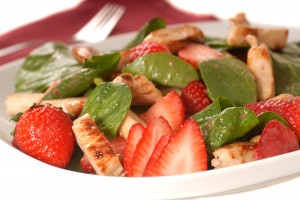 Oh and for Valentines day, dont forget to add some chocolate sauce to the mix 🙂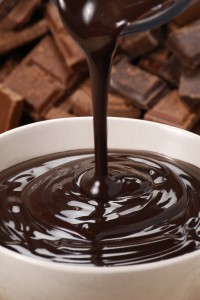 Ingredients:
1 lb. (450 g) Skinless, Boneless, Chicken Breast
3 Cups (750 ml) Baby Spinach
2 Cups (500 ml) Arugula
2 Cups (500 ml) Strawberries, sliced
1 English Cucumber, sliced
½ Cup (125 ml) Crumbled Feta Cheese
¼ Cup (60 ml) Cocoa Nibs
2 oz. (57 g) Dark Chocolate
¼ Cup (60 ml) Olive Oil
1 ½ tbsp. (22 ml) Balsamic Vinegar
2 tsp. (10 ml) Honey
1 tsp. (5 ml) Dijon Mustard
Pinch of dried Chili Flakes

Directions:
1. Preheat oven to 350 F (180 C).
2. Place chicken on parchment paper baking sheet and cook for 20 minutes. Let cool and slice.
3. In a large bowl, toss together spinach, arugula, strawberries, cucumber, feta, cocoa nibs, and chicken
4. Melt chocolate in double boiler or heatproof bowl set over saucepan of barely simmering water, stirring often until smooth.
5. With blender or food processor whirl together melted chocolate, olive oil, vinegar, honey, mustard and chili flakes.
6. Divide salad among serving bowls and drizzle with chocolate vinaigrette.

Nutritional Facts:
(Per serving)
Calories: 472
Protein: 33g
Carbs: 24g
Fat: 28g
PS: Metabolic Cooking is up for a special Valentine's Day Sale.
Be sure to take action and surprise your loved one with a nice romantic meal for two 🙂
Metabolic Cooking special Valentine's Sale << Don't miss out