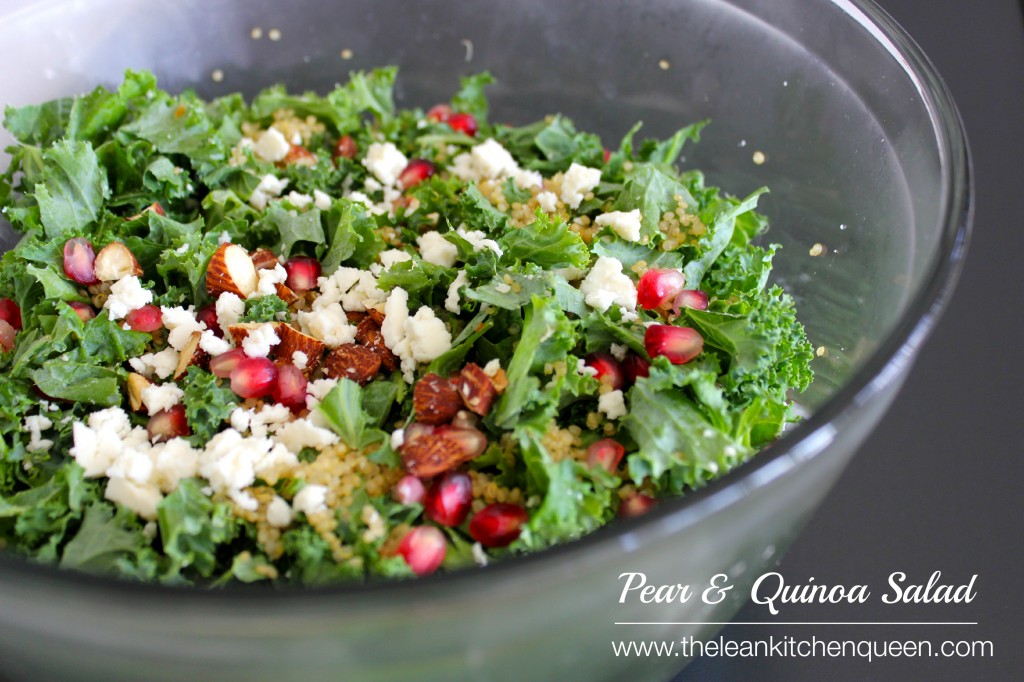 PEAR AND QUINOA KALE SALAD
MAKES 4 SERVINGS
Ingredients:
1 Cup Quinoa, cooked
6 Cups Kale, chopped
1 Asiatic Pears, diced
¼ Cup Pomegranate
¼ Cup Almonds, coarsely chopped
¼ Cup Feta, crumbled
Vinaigrette:
2 Tbsp. Extra-Virgin Olive Oil
2 Tbsp. Apple Cider Vinegar
1 Clove Garlic, pressed
2 Tbsp. Organic Maple Syrup
1 tbsp. Dijon Mustard
¼ tsp. Curry Powder
Sea Salt and Pepper, to taste
Directions:
1. In a large bowl, add quinoa and kale.
2. In a small bowl, whisk together all the ingredients for the vinaigrette and add to the quinoa and kale. Mix well.
3. Top with pears, pomegranate, almonds and feta.
4. Enjoy!
Nutritional Facts:
(Per serving)
Calories: 395
Protein: 12 g
Carbs: 57 g
Sugar: 13 g
Fiber: 7 g
Fat: 15 g