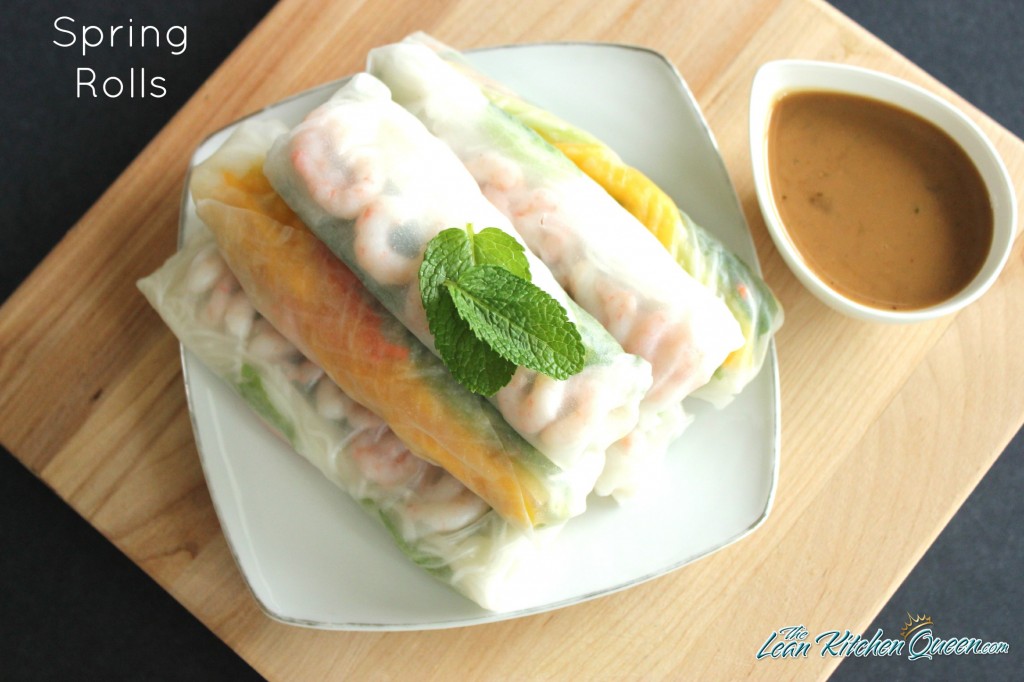 SPRING ROLLS
MAKES 8 SERVINGS
Ingredients:
2 Cups Rice Vermicelli, cooked
16 (9-inch) Round Rice Paper Wrappers
8 large cooked shrimp, peeled and halved horizontally
1 Cup Romaine Lettuce, sliced
1 Cucumber, seeded and cut into julienne
1 Carrot, cut into julienne
1 Mango, cut into julienne
2 Green Onions, cut into julienne
½ Cup fresh Mint Leaves
¼ Cup fresh Cilantro Leaves
Directions:
1. In a large bowl of very hot water, soak one rice paper wrappers at a time until they are lightly dredged in water, about 15 to 20 seconds. Remove from the water; drain well and place on a dry cloth.
2. On a work surface, layer two moist wrappers. Place 1/4 cup of noodles and some lettuce at one end. Fold the sides toward the center. Roll up tightly. Add cucumber, carrot, mango, and green onions, always rolling firmly to enclose the filling. Place 5 shrimps to cover the length of the roller and continue rolling. Add the mint and cilantro leaves and complete by folding in the edges.
3. Cover the rolls with a damp cloth and repeat with the remaining ingredients.
4. Refrigerate until serving time.
5. Serve with Thai peanut sauce << See previous recipe
6. Enjoy!
Nutritional Facts
:
(Per serving)
Calories: 142
Protein: 3 g
Carbs: 31 g
Fat: 0 g