Today I have for you a tasty frozen kiwi popsicle treat called Coco-Kiwi Popsicle which is the perfect treat to have on a hot summer day 🙂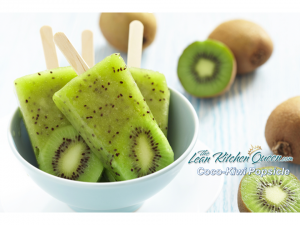 COCO-KIWI POPSICLE
MAKES 10 SERVINGS
Ingredients:
·      1 Cup Coconut Water
·      1 Cup Almond Milk, Vanilla Flavor
·      1 Kiwi + 10 sliced Kiwi
Directions:
1.    Add all the ingredients in a food processor, except for the sliced kiwi, and blend until smooth and creamy
2.    Pour into molds with sliced kiwi. Freeze until frozen.
Once you've tried this tasty frozen popsicle treat, I would love for you to share your comments here on the blog or on my Lean Kitchen Queen Facebook Page 🙂