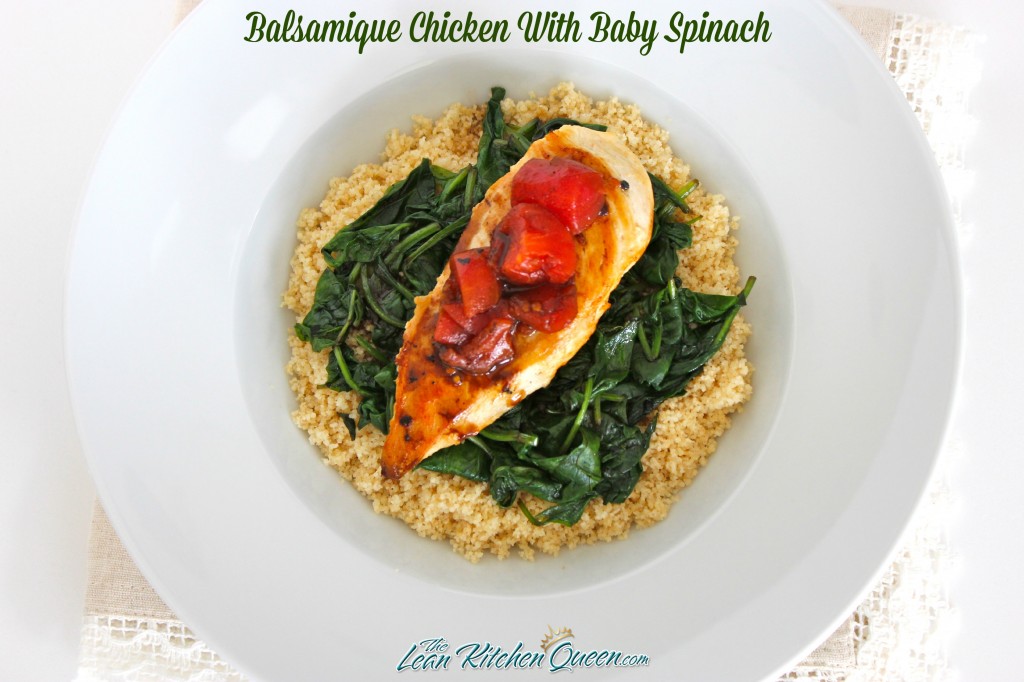 BALSAMIQUE CHICKEN WITH BABY SPINACH
MAKES 2 SERVINGS
Ingredients:
2 Chicken Breasts
1 Tbsp. Coconut Oil
2 Cloves Garlic, pressed
4 oz. Spinach
2 Tbsp. Balsamic Vinegar
1/3 Cup Low-Sodium Chicken Broth
1 Cup Low-Sodium Canned Chopped Tomatoes With Juice
Sea salt and Pepper, to taste
Directions:
In a large nonstick skillet over medium-high heat, add coconut oil and garlic. Cook for about 1 minute.
Add the chicken breasts, season with sea salt and pepper and cook 4-5 minutes per side, or until cooked through. Remove the chicken and set aside.
To the same pan, add the spinach and cook just until wilted. Remove from the pan and set aside.
Lower the heat to medium and add the balsamic vinegar, chicken broth and tomatoes to the pan and stir. Bring to a simmer and cook 3 to 5 minutes.
Ready! Top the chicken with spinach and tomato-balsamic sauce.
Enjoy!
Nutritional Facts
:
(Per serving)
Calories: 261
Protein: 30 g
Carbs: 11 g
Fiber: 4 g
Sugar: 5 g
Fat: 10 g